From vacant lot to pop-ups, to a more lively downtown
I am head over heels in love with what one little town accomplished. I wrote a post telling what a pop-up shop is. Reader Julia McCray (no relation) stopped by to tell this story:
"Thanks Becky, I love reading your posts and seeing what other communities are doing across the country. This particular post describes something we've recently done in our community (Tionesta, PA). I'll try to give you the short version of the story:
"We had a lot that was vacant for 10 years after a fire in our downtown. Developers had no interest because of our seasonal tourism, low population (500+/-) and declining downtown. Our Industrial Development Corporation bought the lot and created a micro-retail incubator…..but it's really a pop-up facilitator.
"We called it 'Tionesta Market Village.' We designed 1800s style false fronts for standard outdoor sheds. The buildings have no heat, so they are seasonal. They are leased annually, so people can try their business idea with minimal investment (about $500 start-up) and no long-term commitment. We are renting them for just $50 – $70 per month plus electric and the tenants share the cost of collective advertising. We have had a waiting list for these buildings from the very beginning of the project!
"We invested only about $40,000 with site work, furnishings and buildings and opened in June 2013. This year two-thirds of the tenants renewed their leases and we are adding two more buildings, for a total of eleven individual artisan shops.
"The goal was to create healthy traffic in the downtown that would help boost sales at our existing businesses, spur new businesses, encourage façade improvements, and attract a developer to the site. It's working! Our coffee shop and art gallery extended their hours and saw a boost in sales. A vacant building was purchased and is being renovated for mixed-use. No developer yet……but we have a lot more traffic in our downtown and that depressing vacant lot is now vibrant and attractive.
"The original intention of the project was that it be a temporary solution, but the community loves it! Artisans are selling their products; tourists are coming to see 'the Village'; residents and seasonal residents are coming back to the downtown; a couple of the shops have hired part-time help. This project shows that 'pop-ups' work and are good for a community!"
You have to see the before and after photos, too. (Click that link for the larger view.)
Before, vacant lot: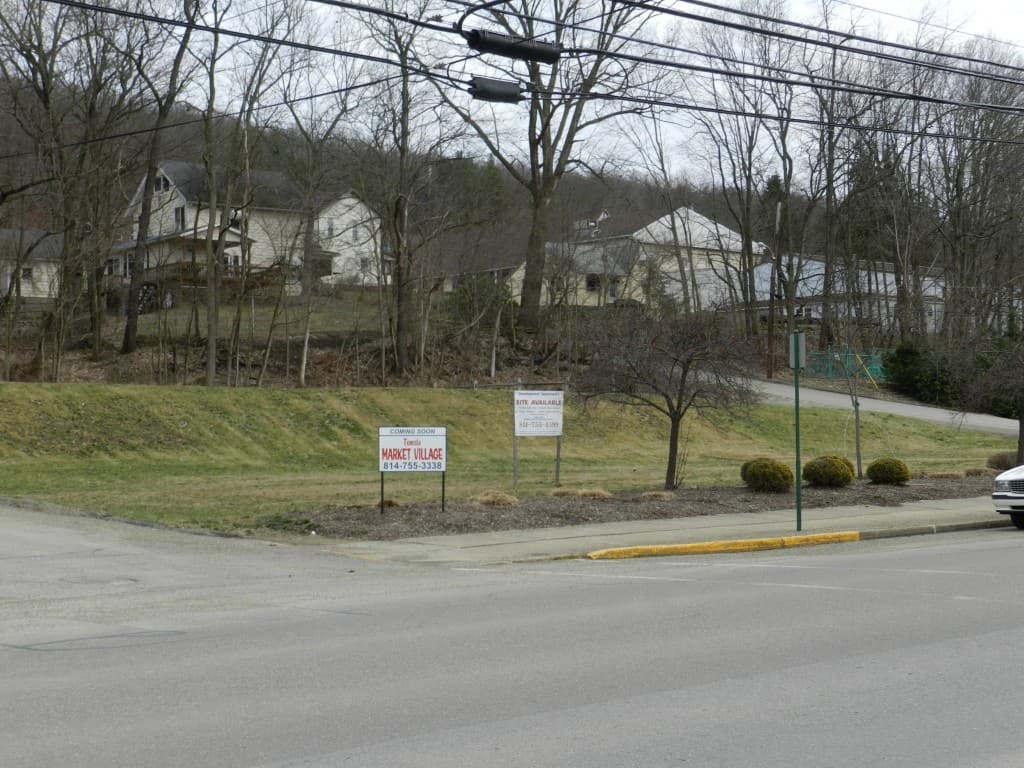 After, a thriving market and a community gathering spot: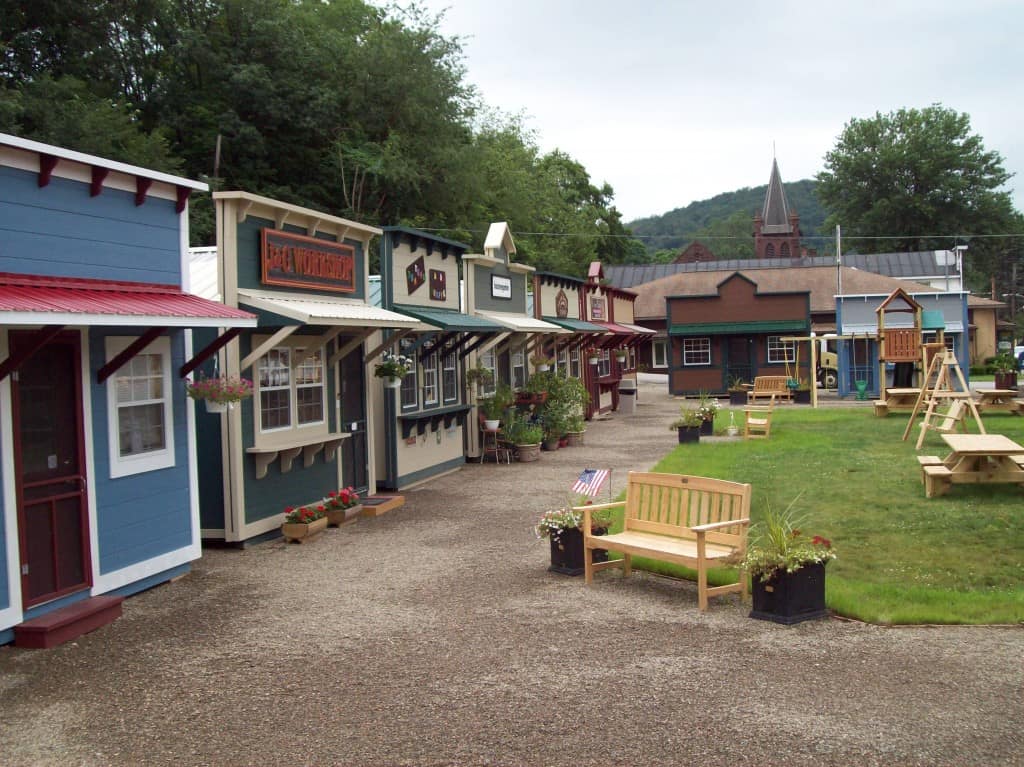 Are you excited by this? I sure am! Forest County IDA/IDC and the people of Tionesta have created something terrific:
They've used their creativity and not much money.
They've pulled down the barriers to entry and lots of new business ideas will be tried as a result.
They've built an amazing community space that is pulling people downtown.
They've encouraged other businesses to change for the better.
And if a developer or a local person does decide to buy this lot, these tiny shops can be moved to another location downtown, and the Village can keep right on going.
The next time you drive through your downtown, take another look at that vacant lot. Wouldn't it make a great place for your own tiny Market Village? What would be your first step to make that happen?
Becky
PS – One rural events worth mentioning for US readers:
Cross Currents: Art and Ag Powering Rural Economies from National Rural Assemby, Sept 3-5.
I don't have any connection to either event. Just felt they're worth sharing.