Bio for Introductions
Becky McCray is a lifelong small-town entrepreneur. As co-founder of SaveYour.Town, she shares insights from her real-world experience as a business owner and cattle rancher. Her practical perspective is featured at her highly-ranked website, Small Biz Survival, and in her award-winning book, Small Town Rules. She's been featured and quoted in books, newspapers, magazines, blogs, podcasts and university publications. She makes her home base in Hopeton, Oklahoma, a community of 30 people. Her goal is to deliver practical steps you can put into action right away to shape the future of your town.
Bio for Convincing Others
(also known as the Speaker One Sheet)
Need a bio to share with potential sponsors, a committee, or others helping plan your event? Share this printable bio with them.
Photo
If you need a photo of me for your publication, I recommend this one by photographer Cody Johnson of Tulsa, provided with permission for promotional use: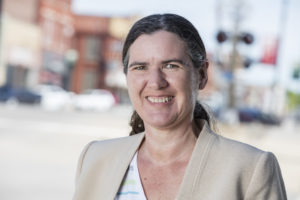 Here is the 300dpi higher-resolution version (20 MB)
For a shot of me speaking, you may use one from my speaking set on Google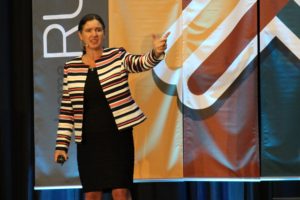 These photos not working for what you need? Email me or use the contact form. I'll do my best to find the right image at a resolution that works for you.
What I believe: the Small Town Creed
You can use this Small Town Creed to energize your people before or during your event. It's available freely for download at IdeaFriendly.com
Here is the JPG version for social sharing, newsletters, etc:
You can also share the PDF version for printing.
You can also share this narrated video version to build excitement.
Website and Social Media Links
SaveYour.Town – my collaboration with Deb Brown
SmallBizSurvival.com – my blog, ongoing since 2006
LinkedIn: Becky McCray
Twitter: @BeckyMcCray, @SBSurvival, @SaveYourTown
Instagram: @BeckyMcCray, @SaveYourTown
Facebook: Small Biz Survival, SaveYour.Town
Bonus Downloads
Need a gift, download or informational item to share with your attendees? Offer them one of these PDFs.
101 Ways to start more tiny businesses in your small town
Logos
SaveYour.Town, my firm logo:

Idea Friendly, my signature method: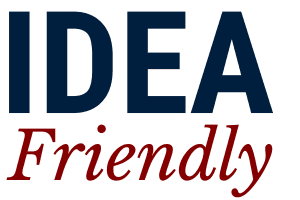 Book Cover
Some events like to use the cover of my book in their articles or publications. Here's the cover for Small Town Rules.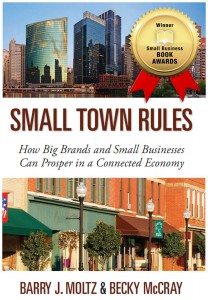 Slightly larger version 782×1125 pixels
More details on the book, Small Town Rules
Video
Want a video from me to add to your web page, share on social or generate more attention? Try one of these.
Small Town Creed narrated video – highly recommend sharing this one
Media appearances and interviews
Talking Points for Podcasts and Interviews
About Becky McCray
Lifelong entrepreneur and cattle rancher. I don't just talk about rural issues; I live them.

Co-founder of SaveYour.Town (you say "Save Your Dot Town"–it's our name and our website)

Author of the book Small Town Rules

Former small town city administrator, nonprofit executive, and liquor store owner

Lives in a community of 30 people
The Idea Friendly Method
The research-backed Idea Friendly Method helps communities thrive no matter what obstacles they face

Put ideas into action with less formality, less overhead, no more committees, no more meetings, no more plans

Small but meaningful participation by everyone

Rather than voting, consensus emerges from action

Community is our goal
Positive Rural Trends – Seeing the Small Town Future
Do small towns in general have a future? Isn't everything just becoming urban?

Is there any way to tell which small towns might survive?

Is there any good news around small towns? Are all the trends working against us?

Is population the only measure of success for a town? What else matters?
Innovative Rural Business Models and Rural Jobs Creation Strategies
You don't have to settle for a normal business

The 5 Ts of Innovative Business Models: Tiny, Temporary, Together, Traveling, and Tech enabled

Why small steps beat big leaps

Shed businesses and divided spaces mean more opportunity for everyone

Connect people with people for innovation, connect people with resources to capitalize on innovation

No one creates jobs in a vacuum
Walking Workshops
It's not about gathering ideas or building consensus or writing a plan

There is no plan, no master list of ideas, no checklist of one-size-fits-all answers

It is more about noticing possibilities than focusing on problems

It's about unleashing people to take action

Get started today with chalk, fabric, magnets, lights and crack art
Dealing with Opposition
99% of the best things you can do for your community don't require anyone's permission

Negative people think they're helping

Pay the fine and do it anyway

Small towns are really fluid networks of ever-changing alliances

It will never go back to the way it was; you have to start from here and go forward

Us vs. Them is a myth
Other Stuff
Need something I didn't think of? Email me or use the contact form, and I'll get it for you.