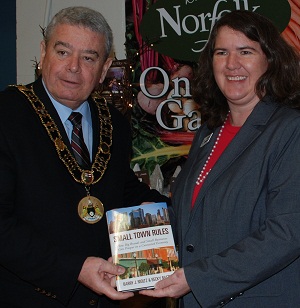 Becky McCray is an award-winning author and online content creator, podcaster, video creator, blogger, and ebook author. Since 2006, she has been regularly publishing blogs, podcasts and video streams. Her articles have been featured internationally across the web and in print, while her book Small Town Rules co-authored with Barry Moltz was reprinted in an international edition.
Books by Becky McCray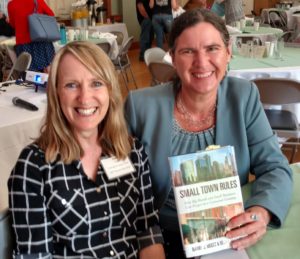 Small Town Rules: How Big Brands and Small Businesses Can Prosper in a Connected Economy
by Barry J. Moltz and Becky McCray, 2012, published by Que/Pearson Publishing Company
Reprinted by Dorling Kindersley India, international edition paperback, 2015
Winner, Small Business Book Awards 2013
Winner, NFIB's Best Small Business Books Published in 2012
Buy online from an independent bookseller:
Book contributor and chapter author
Small Town Big Money: Entrepreneurship and Opportunity in Today's Small Town, by Colby Williams, 2019, contributed "Innovative Rural Business Models"
Small Town Economic Development: Reports on Growth Strategies in Practice, editors Joaquin Jay Gonzalez III, Ph.D.; Roger L. Kemp, Ph.D., ICMA-CM and Jonathan Rosenthal, MPA, AICP; 2017, published by McFarland & Company, contributed "How to Market a Small Town"
The Age of Conversation 2: Why Don't They Get It? Editors Gavin Heaton and Drew McLellan, 2009, contributed "Why don't local businesses get it?"
eBooks and Report author and contributor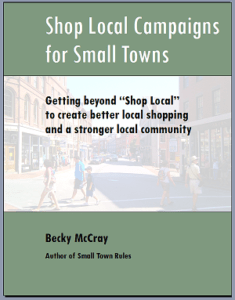 State of Main, annual report and magazine published by Main Street America, contributed The Future of Retail, 2018
Illinois Country Living magazine – Six Innovative Rural Business Models
Creative Uses for Downtown Buildings in Small Towns, University of Wisconsin Extension and Wisconsin Economic Development Corporation, Bill Ryan, Emily Lutz, and Melissa Kono of UW-Extension, with Errin Welty of WEDC, contributed profiles of "Retail Incubator: The Village" and "Outdoor Retail Marketplace: Tionesta Market Village" 2017
101 Ways to Start More Tiny Businesses in Your Town, by Becky McCray, 2017, published by SaveYour.Town
Shop Local Campaigns for Small Towns: Getting beyond "Shop Local" to create better local shopping and a stronger local community, by Becky McCray, second edition 2014, first edition 2009, published by Small Biz Survival
Small Town Business 2014: Trends in rural and small town business, by Becky McCray, 2014, published by Small Biz Survival
Embracing Twitter …so it'll embrace you back: An Advice Handbook for the Wary, 2011, edited by Ben Henick and Justin McCullough, published by Turning Minds Media, Inc., contributed "Make It Interesting"
137 Twitter Tips: How Small Businesses Get The Most From Twitter, 2009, edited by Anita Campbell, published by Small Business Trends
100 Green Small Business Tips, 2009, edited by Anita Campbell, published by Small Business Trends, contributed "Get a Free Energy Audit"
7 Ways You Screw Up Your Life: (And How To Unscrew It) 2008, edited by Marti Lawrence, contributed "Failing Well"
20 Small Business Ideas for Small Towns: Plus seven ways to make your own ideas by Becky McCray, 2008, published by Small Biz Survival
Mentoring Toolkit, by Becky McCray, 2004, published by Business and Professional Women USA
Blogs & Podcasts
Author of over 1800 posts and articles
Founder, publisher and principal author since 2006
Ranked one of the 25 top small business blogs in the world by Technorati
Newstex Authoritative Content publisher – syndicated in LexisNexis, Thomson Business Intelligence, ProQuest and Postmedia Network. Previously included in the Visa Business Network, alltop Small Business, alltop Rural, My Space Small Business News and My Venture Pad
Klout – Top Influencers on Small Business 2012, 2013
Klear – Top 2% of all social media users
More places Becky writes
Podcasts and Video shows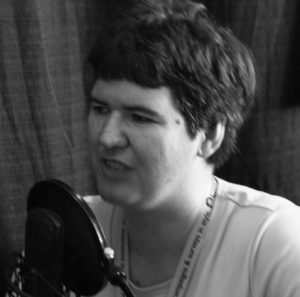 Members-only videos, SaveYour.Town
Co-host, 5 Small Town Stories with Deb Brown
Co-host, GoRural Small Business Podcast with Aliza Sherman
2007 Co-host Small Biz Startup TV live stream with Jeanne Cole
2006 Host, The Great Big Small Business Show with contributors Chris Brogan, Ben Yoskovitz, Bill Gregory, Colleen Wainwright, Heidi Miller, Jon Swanson, Laura Allen, Phil Gerbyshak, Steve Rucinski and Ted Demopoulos
Columns and Guest Series Online
Original Research
Survey of Rural Challenges
Since 2015, over 1700 people answered the Survey of Rural Challenges. It uncovered big disconnects between what rural people want and what media, service providers and policy makers provide.
Services and assistance commonly offered to rural people don't match up with what rural people say they want help with.
Common themes in media coverage and policy conversations around rural communities don't match rural views.
What urban and suburban people think of rural challenges is tinged by stereotypes that don't agree with what rural people are thinking.
Results of the Survey of Rural Challenges were presented to Oklahoma State University Rural Renewal Symposium in 2021.
Reports from the Survey of Rural Challenges, methodology and other details are available at the Survey of Rural Challenges news page at Small Biz Survival.
Magazine, journal and newspaper articles
Guest posts around the web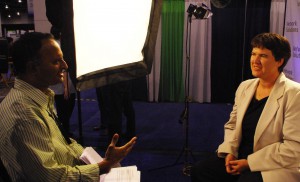 As a professional speaker, I understand the importance of creating a memorable event that not only captivates your audience, but also leaves a lasting impact. That's why I offer services beyond the stage like writing guest posts or creating custom audio or video content for your event.