Choose from these interactive and practical topics packed with straightforward advice that can be put into action immediately. Here are some of my most popular topics, and any of these can be a keynote, a breakout session, or a workshop.

Positive Rural Trends – Seeing the Small Town Future
All your life, you've been told that small towns are dying, drying up, and disappearing, and that there's nothing you can do to change it. What if, just once, there was some good news about rural? There is! Big trends are moving in our favor. Growth isn't the only measure of success, and small towns are the testing grounds for the future. Learn why we have a future and how to shape the future of your town.
Rural audiences love this topic because it is a breath of fresh air: the good news about small towns!
Developing Idea Friendly Communities: Thriving into the Future
You don't need another committee or another meeting. Today you can put your ideas into action with less overhead, less drag and more meaningful participation by more people. Learn three practical ways the research-backed Idea Friendly method will help you improve the climate for new ideas and position your small town to thrive, no matter what the future brings.
This topic shakes up old ideas about small towns. Audiences leave feeling measurably more optimistic (16.8% more optimistic in one survey) because they see exactly how they can shape a better future for their town.
Rural Jobs Creation Strategies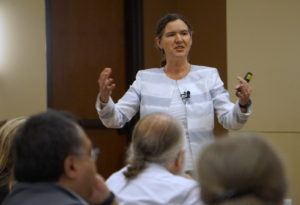 Jobs are changing, and the very nature of work is changing. That means jobs creation is changing, too. Learn ways small towns are connecting their small businesses and would-be entrepreneurs with the support and network they need to be successful and create jobs. Learn about business resource nights, networking events and backroom tours that support entrepreneurs. You'll hear about actual small towns who are using these techniques right now.
This topic gets the attention of business and economic development audiences.

Innovative Rural Business Models
You don't have to settle for a normal business. Rural businesses are exploring new shapes, new locations and new ways of doing business, including pop-ups, shared buildings, businesses inside of other businesses and more. Entrepreneurs are using these smaller scale experiments and tests to learn what works before making a huge investment.
Not only are entrepreneurs interested in these potential models, but local leaders also can put them to work spurring new business development and supporting fuller participation in the local economy.
Each presentation is interactive, moving attendees to take immediate action, often before they leave the room. To keep their momentum going, they receive a video to share once they go home.