6 ways travel motivations are changing in favor of small towns
Travel motivations are changing. The Condé Nast Traveler Research Center put together the slide below for an Australian wine event. They list six important shifts in how travelers decide where they want to go. The first thing that struck me: this is all about small towns.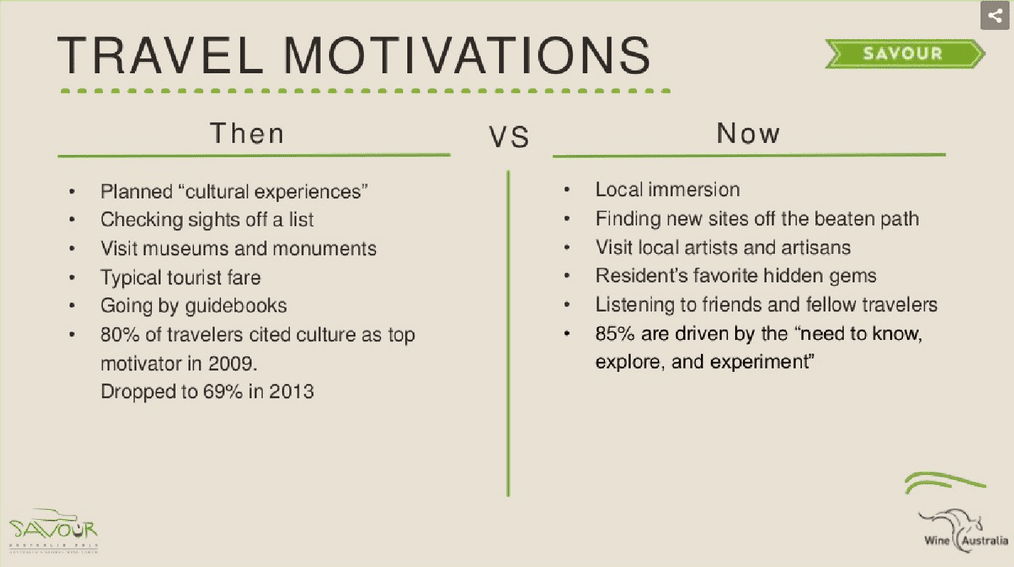 You can click the image above to read it larger, or you can get an overview of these trends here
The new travel motivations sound a lot more like explorers, people who like to get out and experience interesting new things. You've probably been attracting explorers for years in your region. In fact, the Kansas Sampler Foundation has an entire club of dedicated Kansas Explorers who love to visit small towns.
Let's look at the first of these changing travel motivations.
* THEN: Planned "cultural experiences"
* NOW: Local immersion
You've probably sat through a cultural experience created for tourists. Think of a folk dance program put on just for a passive audience of tourists. Too often, these "cultural experiences" are canned and separated from the everyday life of real people in real places. And that's what we want to avoid.
In small towns, visitors can move from being a passive audience to being participants in local events and experiences. They can be a temporary part of the real life of real people in your place.
Here's how to describe that feeling:
Join us at the Freedom Rodeo. Take a seat next to an old cowhand on the open wooden bleachers, and look over to the horizon where you can see ranches still worked the old-fashioned way, from horseback. Cheer for the working cowboys and cowgirls as they kick up dust racing across the arena. Later, when the sun goes down, join the rodeo-ers and locals between the rows of wooden store-fronts downtown when they close the main street for a dance under the stars. It's the Freedom Rodeo and Old Cowhand Reunion, the third weekend in August every year for over 70 years, in Freedom, Oklahoma.
That is true cultural immersion, the opposite of the staged "cultural experience."
Notice that the visitors don't have to compete in the rodeo to feel part of it. They want to be alongside locals, and they can do that in the stands and at the dance.
This is what you do best. You bring visitors alongside you, and they become a local, even for just one day.
Here are two steps you can start on immediately:
1. Make a list of all your local immersive and hands-on activities. Ask around. Where can visitors sit next to locals, participate in what we participate in, do what we do?
2. Banish the boring events list. Pick one piece of promotion you can change today. Rewrite it to talk about your local immersion the way I talked about the Freedom Rodeo.
Keep shaping the future of your town,
Becky