What is there in North Dakota? 
With a statewide population of 740,000 people, spread across 69,000 square miles, North Dakota is spread out. That's a statewide average of 9.7 people per square mile, or 4.1 people per square kilometer. Since more than half of the people live in urban areas, that leaves a lot of empty territory.
Except it's not empty. There are people, just spread out. There are small towns, also spread out. There are farms and fields and pastures growing food for all of us. There are art projects like the massive sculptures along the Enchanted Highway. There are recreation projects like the Bully Pulpit Golf Course, set in the most unbelievable terrain you've ever seen. There's really good ice cream from the Pride Dairy in Bottineau, the last small town creamery in North Dakota.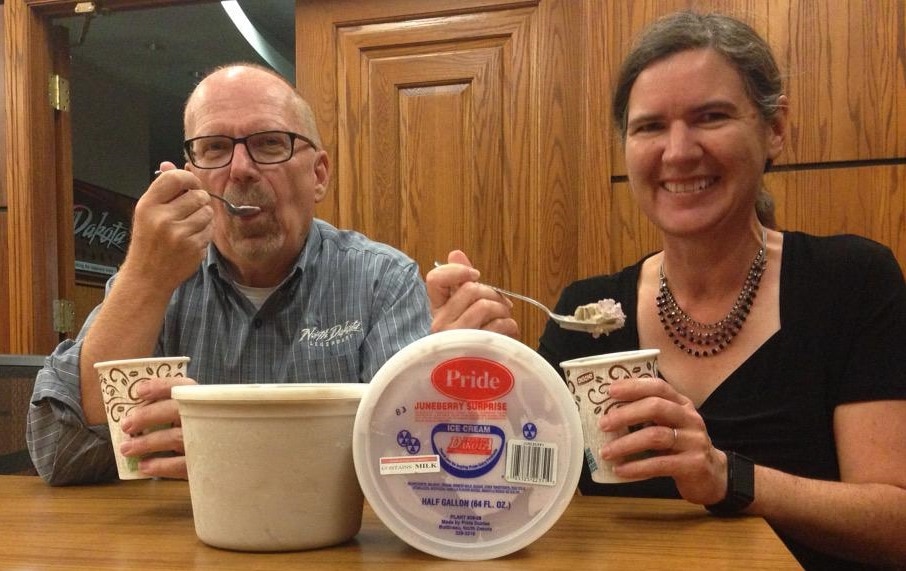 And there's a lot more in North Dakota. 
There are people and assets to build from.
When I spoke at the Big Ideas for Small Communities event, I said that the North Dakota towns that survive and thrive will be the ones that are friendly to new ideas. Business ideas, art ideas, education ideas, government ideas. It's an entrepreneurial spirit towards all kinds of ideas.
Some people want to squash any new idea with "we tried that once" or "but we've always done it this way" or "your last idea didn't work, so we won't listen to you anymore." People and towns that resist new ideas are stuck. They can never go back to the way it was, and they aren't willing to go forward. This is a recipe for rural decline.
The towns that thrive will be the ones where people try lots of ideas, make lots of attempts, experiment and even fail. They will celebrate ideas and attempts. They will create places where smaller and smaller businesses can experiment. They will provide the training in entrepreneurial skills. They will be less about top-down (a few leaders picking just a few ideas to pursue), and more about bottom-up (everyone is supported in trying their own ideas.)
The good news is that you can shape this. You can make your town more welcoming to new ideas. You can work on people's attitudes, the physical environment and people's skills. You can make more connections.
If you do, your town will be moving into the future in a positive way.

Keep shaping the future of your community,
Becky
PS –  Let's all use this as our holiday marketing in our businesses and our communities this year. When we all coordinate our message, we'll multiply our efforts and reach more potential customers.