10 things you can do with a roofless building downtown
A news story from Garland, Texas, got me thinking about what you can do with a roofless building. 
You probably have one in your downtown. Maybe a building burned, or maybe the roof just fell in. These things happen. Now you have an empty space, maybe with walls, or maybe just an open lot. What can you do with a roofless building? 
The standard answer has been to make a pocket park: a little green space, a bench or two, and that's about it. Maybe a memorial or piece of art. Pocket parks are OK, but they aren't the only possibility. There's much more we can do.
This is a good place to apply the Placemaking concepts of "lighter, quicker, cheaper." Try cheap and temporary setups to see what people in your town will actually use. Because of all the pocket parks I've seen in small towns, I've very, very, very rarely seen a person actually using one, and I've never seen a group or a crowd enjoying a pocket park. Which is a shame, really. 
What could you do instead? Let's come up with some ideas that actually get people to use that space to connect with each other and strengthen your community. I'll start. Then you hit reply and add new ones. I'll compile them, give you credit, and share the article publicly at Small Biz Survival.

Not for profit ideas:
Things cities, towns, or organizations might do with lots they own, without much expectation of a direct return on investment.
Start with your pocket park idea, but add lots of seating for lots of people in conversational groupings. One picnic table isn't enough to draw a crowd and make it a lively place.
Add a public restroom. Here's a gorgeous pocket park with public restrooms in Tishomingo, Oklahoma, seen by Cara Jane Carson.
Make an event space. Set up a little stage. Start recruiting anyone who gives lessons (music, dance, drama, writing) to hold student performances there. Because just installing the stage doesn't mean anything if no one uses it. The one in the photo is in my hometown of Alva, Oklahoma, next to the library.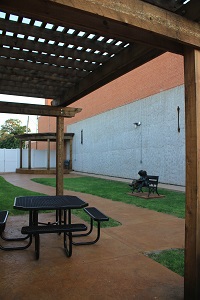 Set up games and fun things to do together. Chess or checker boards, maybe, or domino tables, or poker tables. Or play equipment like parks have. Or interactive art-style things. Or human foosball. Try something! Here are lots of Placemaking examples that include play.  
Make it a beach instead of a park. All you need is sand and beach chairs. Maybe an umbrella. Detroit did this, but your town could, too.  
Set up an outdoor living room. Make it comfy and home-like. (Hey, I've seen plenty of outdoor furniture that looked living-room worthy.) Hold conversations there.  CFRA did an outdoor living room in their town of 851. It was a temporary art/community project, but makes perfect sense to keep on. 
Let other people decide. Let community groups or school kids take over the empty space for a month, and give them a free hand. I'm betting some great ideas will happen. Some will be not so great, but don't let that discourage you.

Not-just-for-profit ideas:
Things individuals could do, and might even make a little money on. And yes, cities, towns and organizations could do these, too.
Rent the space for special events. Try tastings and sampling events, demonstrations, lessons, or an outdoor yoga studio. You might have the most demand during the big festivals or events that already draw people downtown.
Outdoor eating space: rent to a nearby eatery for outdoor seating for the nice-weather season.
Food truck dining: add tables and chairs, and a place for food trucks to park. That was the idea in the news story from Garland, Texas, that got me thinking. 
Pop-up a village of shops: use garden sheds to create a bunch of tiny businesses. Tionesta, Pennsylvania, did this with an empty lot. Now they have a bunch of businesses there. 
These are the kind of things we brainstorm when I visit small towns. We get people together, I bring examples I've found all over, locals bring their knowledge of your people and the place, and not too surprisingly, we come up with better ideas together. If you're interested in having me come to your town, hit reply and we'll talk about it.
Your homework assignment is:
Come up with one other way to use a roofless building or an empty lot downtown. Hit reply and send it to me. I'll quote you in the article compiling all the ideas into a resource for small towns everywhere struggling with those empty spaces downtown.

Keep making your small town better,
Becky
PS – For bonus points, go look at an actual empty lot or roofless building in your downtown (or High Street). Stand there and think. Think about what might work in your town. How could you make that happen?