You can choose programs on rural trends, small business, economic development, and marketing. All are interactive and packed with straightforward advice that can be put into practice now. Here are some of my most popular topics, and any of these can be a keynote, a breakout session, or a workshop.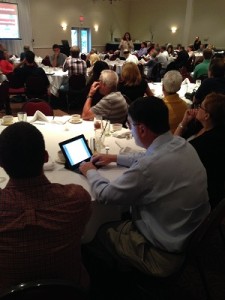 10 Positive Rural Trends
All your life, you've been told that small towns are dying, drying up, and disappearing, and that there's nothing you can do to change it. What if, just once, there was some good news about rural? There is! Big trends are moving in our favor: brain gain, changing retail dynamics, new travel motivations and more. Learn why we have a future and how to shape the future of your town.
Rural audiences love this topic because it is a breath of fresh air: the good news about small towns!
Big Ideas in Small Towns: Making Small Towns Open to New Ideas
"We tried that once." "That's not how we do things here." If that's how people in your town react to new ideas, it's time to start making your town more Idea Friendly. There is a proven pattern to improve the idea climate in your rural community. Learn the practical steps you can take to draw a crowd of supporters, create more connections, and get started with small steps, no matter what the naysayers think.
This topic shakes up old ideas about small towns. Audiences leave feeling measurably more optimistic (16.77% more optimistic in one survey) because they see exactly how they can shape a better future for their town in the face of opposition.

What Works in Rural Marketing Today: Be heard without shouting
Your messages are being lost in the ocean of information. How can you get your important communication through? How can you market, advertise or advocate when no one is listening? The answer is in this practical system for stepping up the engagement and layering the details that you can put into practice in your very next email, update or printed material. You'll create valuable messages that get through and get remembered.
This is an excellent topic for tourism-related businesses. 
Next…
Let me know what you need through the contact form.
Or get more samples of my talks on the Video page.