Creative Interactive Sessions:
Brainstorming, Discussions, Roundtables
Want to get results from a speaker? Interactive sessions do that. Rather than an hour long lecture, or death by PowerPoint, I join you and your people in a discussion. We all pull our chairs up together. We get on the same side of the problem, and we all work together on discovering and creating solutions that work in your place.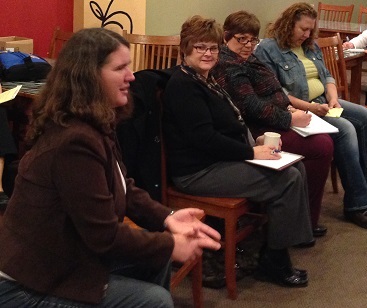 I excel at moderating the flow, providing customized and useful answers to questions without lecturing. I add to the conversation without dominating, to draw out the best ideas from your people.
If you need a session that focuses on solving a specific challenge, we can create a flipped session where a quick-start video lesson is delivered online in advance. That saves the in-person time for the most important part: the discussion about how to make this work.
Sometimes, it takes an outsider's perspective to ask just the right question or see the overlooked potential. I bring that perspective along with examples and stories of what other towns have tried and learned.
"What changed because of this?"
That's my bottom-line question of every talk, every appearance, every session I lead. If nothing changes, there's no point. Interactive sessions are absolutely the best thing I've found to make sure that something good changes because of our time together.
Outstanding guided brainstorming session today with Becky McCray.  It was great to have Becky come in and lead us in a discussion that was interactive.  She got the entire room to start thinking about working together, sharing our passions and supporting local businesses.  Everyone left with a list of things they could go back to work with and install right away.  So much better than a one hour lecture and more empowering as well. The guests stayed and talked amongst themselves and began the process of working together to create magic right here in Webster City.  The benefits of bringing Becky in far outweighed the cost. By the end of the week, I saw businesses changing their marketing, starting to work together, cooperating with the local paper, and a few new people starting to work with the Chamber.

Deb Brown, organizer, Webster City Chamber of Commerce, Iowa – see news story in the Daily Freeman-Journal
Have a structured agenda? Make the most of it with interactive keynote and workshop sessions:
Now that every business, including yours, has to play by small town rules, you might as well know what they are.
When every one of your customers can talk to every other one of your customers, that's just like a small town.
You know that rule, but wouldn't you like to know the rest of the Small Town Rules? You might as well, because you have to play by them to survive.
As a speaker, that's the message I bring to you and your group: Small Town Rules. 
Our economy is more like a small town now, with tight lending and low consumer demand. Technology has made it easy for every one of your customers to talk to every other one of your customers, just like a small town. And society is more focused than ever on small neighborhoods and local business, just like small towns. When the whole world seems like one small town, small towns are the learning lab, and small town entrepreneurs hold secrets to business survival.
For rural audiences, you'll hear best practices that work in small towns, examples from small towns today. The best of our wisdom confirms what rural audiences already know, but maybe weren't sure about. It's validation that our experience is valuable.
For Small Business Owners, the Small Town Rules come straight from the challenges and successes of my own small business, as well as those around me in small towns. In a small business, there is no room to hide. The Small Town Rules bring out the most important factors to succeed in a time that makes every small business especially vulnerable and potentially powerful.
For Large Companies, Small Town Rules help large brands and urban businesses that are struggling with the uncertain economy, radical changes in technology, and seismic shifts in society. Today, brands find themselves trying to compete for local customers, while being bombarded by inbound messages from consumers and fans, while also coping with drastic changes in revenue. Small town businesses have been juggling this set of challenges for decades. Small towns become the learning labs for business today.
For people all over, hungry for a return to business on a human scale, this is timely wisdom that's suddenly back in fashion.
Speaking Style and Other Topics
My successes and my failures help me connect deeply with people, and share some of the ways that small businesses can survive and grow in small towns. These speaking topics come from my own experience using new technologies in my own businesses: a retail store, a cattle ranch, and teaching social media marketing to tourism professionals. I don't just talk about business, entrepreneurship, tourism and rural issues; I live them.
Because interactivity is the key to learning, every presentation I do is interactive. Teaching hundreds of classroom hours on computer and business subjects for adult students prepared me to lead useful interactive sessions.
In over 100 events ranging from my own community up to international audiences in the U.K., Canada and Australia, I've worked with audiences from 10 up to 600. Those events include entrepreneur conferences, business groups, small town conferences, tourism associations, economic development associations and chambers of commerce.
My topics have included social media, small business, social networking and new technologies, economic development, and marketing. Based on your schedule, we can arrange a workshop, keynote, or a question and answer session.
In addition to my signature topic, Small Town Rules, you are welcome to suggest a topic of your own, or to work with me on a customized presentation. You can also select from my favorite topics. Any of these can be a keynote, a breakout session, or a workshop.
Secrets of Prosperous Small Towns 
Economic development for small towns will never be the same. "Chasing smokestacks" doesn't build a living local economy; local entrepreneurs do. The tested model of Climate, Infrastructure, and Support sets out the best road map to building your small town's future.
Engagement=More Money: How to market UP the value ladder 
How do you keep from being a commodity to your customers? People today don't want to just look. They want to get their hands dirty, learn by doing, and be part of the experience. And if you can make it part of a larger cause like preserving rural culture, well, that's something they'll pay extra for. It's all part of the progression of engagement. We'll work our way up the ladder together in an interactive session.
This is an excellent topic for tourism-related businesses. 
Breaking Out of your Circles and Growing Your Business
This interactive work session takes small business owners through a practical process for growth. You may never look at the 4 P's of Marketing the same way again!
Enough talk! Getting Down to Business with Social Media Marketing
Everyone is talking about social media tools, but how do they work for small business? We'll go through a four step process to create a living and working plan that brings social media marketing right into the heart of your business.
Like! Champions Multiply Your Reach Online. How to Find Them.

You could use all the help you can get spreading the word about your place online. Find out how to connect with your developing network of champions online, how to get them interested in your events, and how to help them help you. In this interactive session, we'll build your plan together.
This topic is great for tourism groups and associations, and anyone who has events to promote. This session is different from the all-too-common generic social media presentation; it's laser-focused. By picking one practical use of social tools, participants leave ready to put one thing to work, not dazed with too many options.
I frequently partner with Sheila Scarborough and Leslie McLellan to present on tourism topics.
Add an interactive roundtable or Q&A session
If you're bringing me in for a keynote, an interactive session makes a great second way to put me to work for you. In your standard workshop time slot, a Q&A session can get your attendees answers to their most pressing questions. When your participants are the real stars, a moderated interactive session can help them share their best practices with the whole group.
Most speakers hate this kind of interactivity, because inevitably someone wants to hog the mic or dominate the discussion. I excel at keeping things on track, moving the discussion forward, offering additional ideas and examples from my treasure trove of small town stories.
This same ability to moderate the flow makes me an in-demand emcee and host for events, setting the participants up for success.
A sample of my speaking style
Small Town Rules keynote excerpt: 31 minutes

Want just the highlights? "Small Town Rules" – 10 minutes
Next steps…
To open the conversation, stop by the Contact page and tell me about what would work best for you.
Or learn more about my positive view of rural.