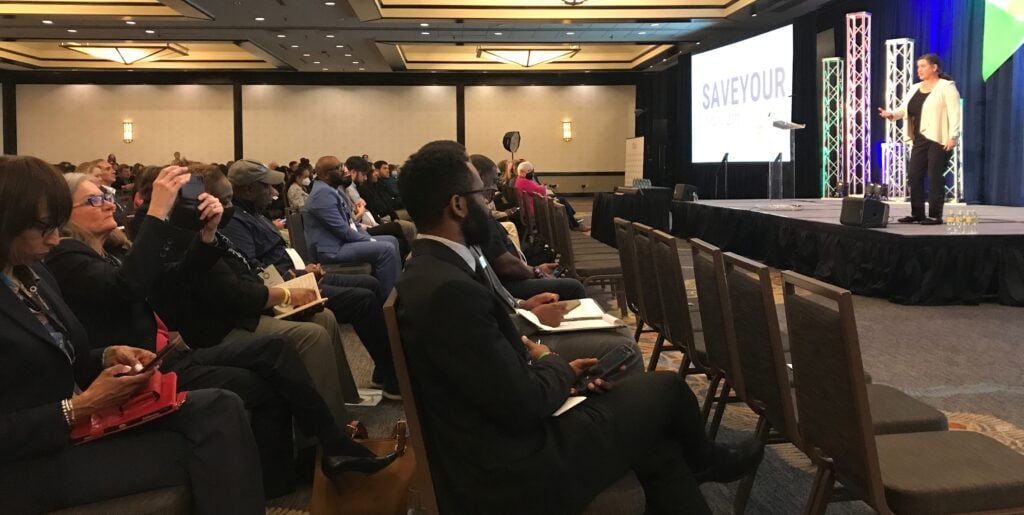 Becky McCray presents the opening keynote for the North Carolina Rural Conference. It's great to be back in person!
Hosting an in-person or hybrid conference or event? Make the most of it with interactive keynote and workshop sessions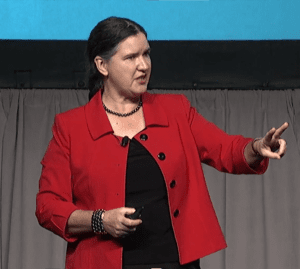 Using my real-world perspective as a small business owner, I deliver concrete take-aways that you can use today to shape the future of your town without getting beaten down by circumstances or others' negativity. Audiences feel energized and hopeful because they know how they can make a difference in their community starting now despite everything going on in the world.
You get down-to-earth advice based on my experience as a life-long rural entrepreneur and cattle rancher, including the "get your hands dirty" aspects that others gloss over.
My programs on my Idea Friendly method, rural trends, downtowns, economic development and community development have given practical ideas to audiences at over 250 events. Rural and small town conferences, economic development organizations, councils of government and chambers of commerce in the US, UK, Canada and Australia have chosen me to boost optimism, change thinking and unleash immediate action.
Running a virtual event? Tap my experience presenting dynamic and engaging remote sessions
For over a decade, I've led live, recorded, flipped, conversational and question/answer sessions through video and audio, plus engaging online chats. Groups like the National Federation of Independent Businesses, National Cooperative Extension, Radically Rural, Mid America Economic Development Council and British Columbia Economic Development Association have turned to me for exciting presentations even when we're not all in the same room.
Audiences rave about the practical ideas they can implement right away, the clarity of my message, and say it was like I was right there in the room with them.
Because I've been presenting via remote video every month for the past four years, I'm comfortable and effective on camera. My working home studio offers multiple background choices to match the tone of your event. I use a professional mic, camera and lights, with a complete set of backup equipment to guard against technical failures. I'm familiar with a variety of live tools, including Zoom, Webex, Whova, HopIn, Adobe, Skype, GoToWebinar, Microsoft Teams, Google Meet and many more.
Live keynotes, recorded presentations, guest lectures, discussions, live audio calls or text only chats–I'll adapt to your needs to best serve your audience, no matter the medium.
Need a host, co-host, moderator or emcee?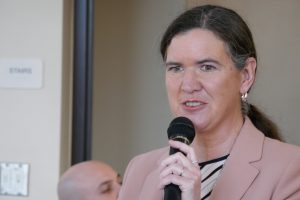 Whether it's setting the tone for multiple speakers, managing lightning presentation rounds, keeping discussion flowing or wrangling a rowdy audience, I love working live sessions.
Audience members describe me as an entertaining, energizing, supportive host who can put the whole event into perspective.
I've hosted, co-hosted or emceed a variety of live events from an intimate rooftop gathering at SXSW for #BlogChatLive, to a working retreat and mastermind event, to an international audience at the 92nd Street Y in New York City, to a small-town event I co-created in Hutchinson, Kansas. For the Nebraska Travel Conference and the Webster City, Iowa, Chamber of Commerce, I lead round table discussions on social media and marketing. After moderating virtual community roundtables as part of the 2020 Rural Renewal Symposium, organizers from Oklahoma State University invited me back for 2021 as well. For the National Association of Rural Electric Cooperatives, I integrated a panel of local cooperative executives into my keynote presentation at three of their events.